When one of her Indigenous students took issue with the setup of her classroom last semester, Ryerson University social work professor Susan Preston agreed to let her make some changes.
The student rolled up the projector screen, cast away the desks, and hauled the chairs into a circle.
Like most classrooms across North America, Canadian classrooms are set up according to Eurocentric methods of teaching. The class of subordinates faces the instructor and receives the information from a lecture or PowerPoint presentation.
"I need to think about my classroom and what kind of space that is," Preston told a group of faculty and students during a panel discussion about decolonizing classrooms at Ryerson last March.
"What is it like for Indigenous students when they walk into this university, into any educational institution, and see a white woman in front of the class? What is it like to walk into that space with the four walls and the desks and the chairs? What kind of images does that conjure up for them? And what can we do differently about these things?"
Preston isn't the only professor asking these questions. Campuses across Canada are decolonizing classrooms.
Debbie Lunny, a philosophy professor at John Abbott College in Montreal, is one of the co-founders of the Decolonizing Pedagogies Group (DPG). Lunny, along with seven other instructors, organized the group in 2016 to help inform teachers of the sensitivities and lack of Indigenous context in education and help them construct their classrooms through an Indigenous lens.
"We look at how our course content and our pedagogies replicate colonial logics," Lunny says. "This includes how our settler perceptions shape how our classrooms and assignments are structured. None of us had the proper training in Indigenous studies. Many schools are in that situation where they don't have Indigenous people teaching Indigenous content."
 (Written and produced by Stefanie Marotta)
The circle seating arrangement that Lunny's student introduced last semester is known as a 'sharing circle'. This way, students and instructors share knowledge and discuss topics openly, rather than looking to the head of the class for all the answers. Lunny uses this classroom format when discussing settler-Indigenous relations for the purpose of opening up the class to exploring different perspectives.
"It disrupts the idea that the teacher is at the front and that we should all be learning from the teacher," Lunny says.
Skepticism
However some Indigenous educators fear that rushing to Indigenize classrooms risks misrepresenting traditions. In an article published last year in University Affairs, Andrea Bear Nicholas, a professor emeritus of Native Studies at St. Thomas University who is Maliseet from Nekotkok (Tobique First Nation) said: "It may draw experts and elders away from their communities where they are needed."
The decision is ultimately up to Indigenous people to determine where they want to spend their time and effort, she adds. "If you're from up north and you have a job teaching down south, it means keeping yourself and your kids away from your community or language or culture to help the students who have come down south for an education. But what's the personal cost of being away? It's our responsibility as an institution to have very flexible engagement policies. That could mean being here for one semester and being away for the next. We have to break the box."
Professoriate 'still too white'
Zoe Todd, an anthropology professor at Carleton University in Ottawa who is Métis, believes de-colonizing academic settings essentially come down to who occupies the teaching space.
 "A lot of people mean well when they incorporate sharing circles but all of those things are tied to legal traditions and stories. We can lose the broader meaning and impact of it.
"I'm not opposed to them, but the sticking point is that the people in the classroom need to reflect society more broadly. While our student body is very diverse, the professoriate is still very white. Using an eagle feather or sharing circle – but not having the Indigenous professor in

                           (Image from KAIROS Canada)
front of the classroom… for me decolonization goes beyond the tokenizing of Indigenous culture."
Todd instead proposes the notion of collaborative teaching and a call for the definition of 'expertise' to be expanded. "If we disrupt the individualism of the academy, you wouldn't just have one white person teaching a course of Indigenous people." 
"Some Indigenous people have deep knowledge of their traditions," she adds. "Universities need to be more open to communities who are knowledge keepers, and who have the support of their communities to speak out as experts. We need to be more open to what we consider to be pedagogy."
Blanket ceremonies
To support faculty training, post-secondary institutions like John Abbott, University of Toronto, and University of British Columbia have introduced seminars to teach instructors about Indigenous history. But these seminars aren't hosted in board rooms or conference halls.
They're hosted on blankets.
Participants use colourful, hand-woven blankets to explore Canadian history from an Indigenous perspective. The blankets represent the lands inhabited by Indigenous people that eventually became Canada. The blankets are then folded back to illustrate the story of how colonization affected Indigenous people, their cultures, and their relationship with newcomers. Participants representing Indigenous people read a script aloud that describes pre-contact, treaty-making, colonization and resistance.
"There's a level of vulnerability required by participants, so you need to be willing to go there," Lunny says, who has tried this approach in her classes. "It had a big impact on students."
She acknowledges, however, that this is just the first layer in an ongoing process.
"The miseducation around history has had a profound impact on settler-Indigenous relations," Lunny says. "To get over our own settler ignorance, we have to first get ourselves out of the way."
*Additional reporting by Shenaz Kermalli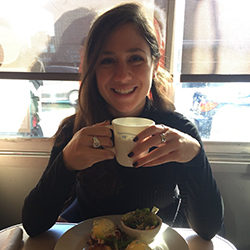 Stefanie Marotta is a multimedia journalist, formerly based at the CBC News Parliamentary bureau in Ottawa.