Riley Kucheran recalls a poignant moment during his four-month internship with one of Canada's pioneering Indigenous fashion designers, Angela DeMontigny. DeMontigny, who owns a namesake boutique shop in Hamilton, Ont., was doing beadwork on a larger piece for a client. It was a process that Kucheran says took months. "As she's beading, she was praying into the beads," he says, miming the action and concentration put into each individual bead.
"She knew that this client was in a time of difficulty, so she was being very intentional in what she's praying for this client," he adds. "She had to be in a good state of mind to do that bead work."
DeMontigny's process seems unique in the Western concept of fashion – which values speed and efficiency.
"Just that slowness, the significance of the beading, it's so much better than fast fashion," Kucheran says. "That's this personal and spiritual connection you don't get in fast fashion, it's so removed, there's no meaning or intention at all."
Kucheran is on a path to change that.
A PhD student in Communication and Culture at Ryerson, Kucheran, who is Ojibway from Biigtigong Nishnaabeg (Pic River First Nation in Northern Ontario), is working with Ryerson's School of Fashion to "indigenize" their curriculum.
One of his biggest supporters is Henry Navarro, a professor in Ryerson's school of fashion who believes in the power of learning outside the classroom. Navarro, whose own work focuses on site-specific fashion projects, has collaborated with remote communities from Hawaii to Indigenous communities in Northern Canada, to address social issues and promote self-sufficiency and sustainability through fashion.
Navarro has brought his methods to the classroom, having students in his Fashion Event Planning course plan and execute a fashion show based entirely around Indigenous knowledge and philosophies.
This years' show, in March 2018, was called "Of the Stars" and featured DeMontigny's  latest collection of the same name,  which is inspired by an Anishinaabe  story about the Pleiades constellation. DeMontigny's choice of title for her collection is very intentional, referencing not only Indigenous stories, but a long history of constellation-based stories in Greek Mythology.
"We all look at the same star system," DeMontigny says, "so I wanted to talk about that relationship we have with the stars. That we come from the stars."
Professor Henry Navarro and Angela DeMontigny (Katherine Singh)
The event itself is framed around the Twelve Philosophical Principles of the Cree EldersThese are a set of principles that guide the actions and approaches of Cree (and other Indigenous peoples) in all aspects of life. Indigenous philosophies inform the way Indigenous people think and interpret the world around them. They are employed on a daily basis and shape Indigenous morals, ethics, political decisions and self-reflection. Some principles include: wholeness, the idea of change as cyclical, and the idea of people as both physical and spiritual beings. (Professor Henry Navarro), and focuses on the tangible and the intangible, stressing the experience more than the visual.
"It's not just how things look, but how things feel," Navarro says, "are there specific smells in the space? Are there specific sounds? How will these intangibles act as a spiritual experience within you?"
One of the main principles emphasized in the show is that of wholeness – the notion that everything has a relationship to something else. Within this framework, Navarro says, simply buying and wearing a garment because it's on trend, does not work.
"From an indigenous perspective, that is not reason enough," Navarro says. "The colours, the shapes, the motifs – they have other connections – to your family, to who you are to what you have achieved. So it's a lot more complex than that"
This process starts with the sourcing of materials. Sourcing, Navarro says, deeply affects how the wearer maintains their garments.
"You have to be not just mindful, but grateful of those materials getting to you," he adds. "The animal that lets you use their fur or their hide; the earth produced plants that you can then transform into fibers. It means these garments are not simply garments; they have a spiritual aspect to them."
DeMontigny herself supports a network of local hunters, trappers, artisans and seamstresses with her designs, a form of community-building that Navarro says is lacking in the fashion industry.
Fashion – A Frontier for Change?
It's not often fashion is thought of as a frontier for change. Since the 1940s, Indigenous culture has been co-opted by the fashion industry. The past few years have seen a slew of designers called out for cultural appropriation. In 2015, Canadian brand Dsquared2 released a Fall-Winter collection titled #DSQUAW, editorializing a slur historically used against Indigenous women; and Indigenous headdresses continue to be worn on runways and at music festivals alike.  
We as Indigenous people in this country have lost so much. We have lost our land, our language…everything. And then our culture and designs are still being taken. There's nothing left. It's got to stop.
— Angela DeMontigny, designer
"We as Indigenous people in this country have lost so much. We have lost our land, our language…everything. And then our culture and designs are still being taken," DeMontigny says, "there's nothing left. It's got to stop."
Kucheran and DeMontigny are hopeful that their work will act as a form of "fashion reconciliation," educating and disrupting still prevalent stereotypes held against Indigenous people. These are stereotypes DeMontigny regularly encounters in her own shop, when customers come in, she says, envisioning pow wows and feathers. Often, DeMontigny finds, they are surprised.
"People don't know very much about us, and that's one of the reasons that I always wanted to design clothes that was very contemporary and high fashion…they don't know us as contemporary people," DeMontigny says.
They also don't understand Indigenous fashion, says Kucheran. "It's not a trend, it's a set of values about fashion itself."
But can it have a place in mainstream fashion? While Navarro is optimistic that there is a place within fashion for Indigenous practices, it is tentatively so. He says the stop and start nature of mainstream fashion does not mesh with certain Indigenous principles, like that of wholeness.
"The concept of fashion itself can never be an Indigenous concept," Navarro says. "The idea of fashion is: for a period we're going to follow this look, and then the look will be retired and something else will come in its place
"But tradition doesn't have a beginning or end, it's a continuum. And I think that's very challenging for anyone to think within the fashion industry."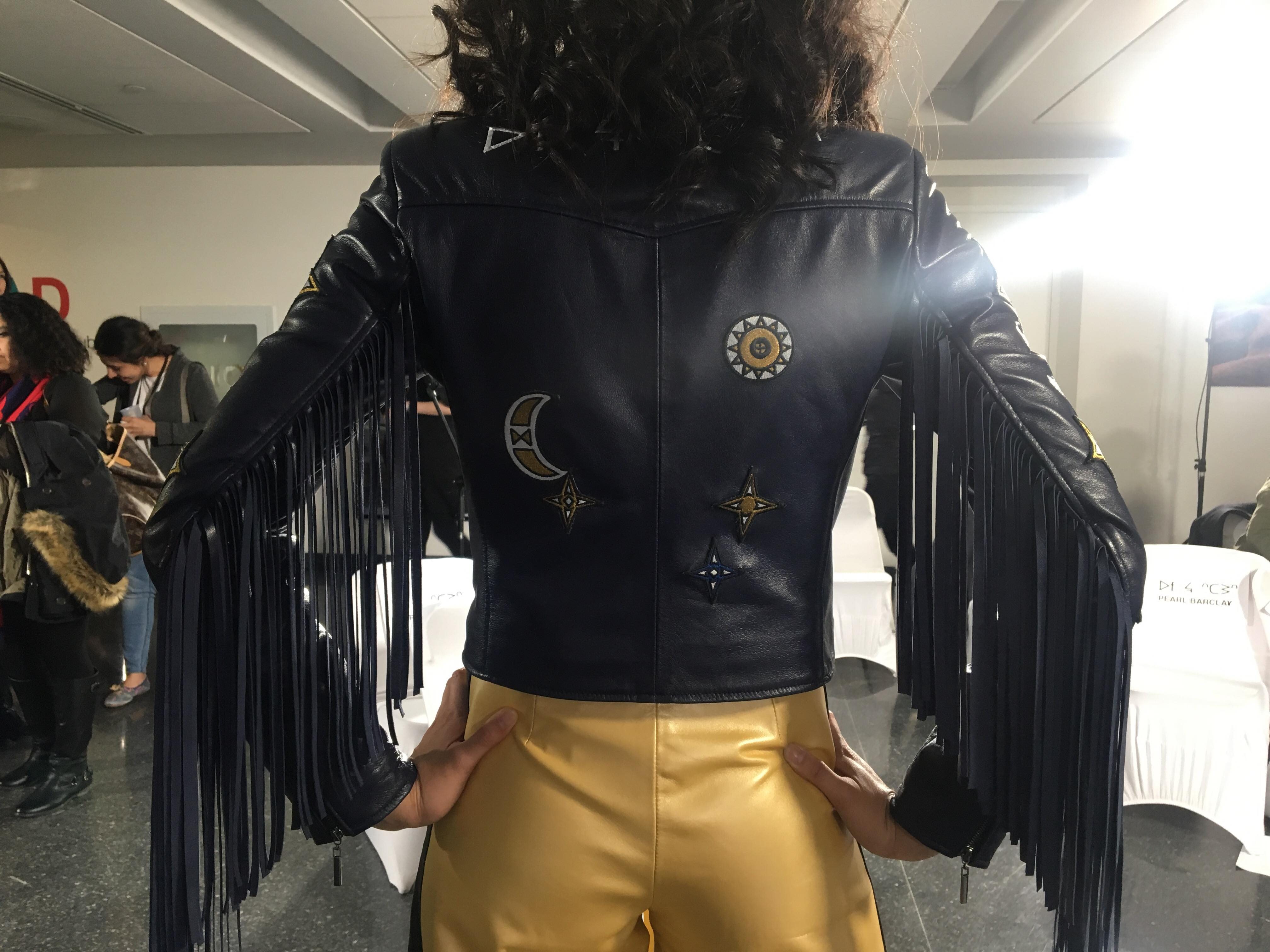 Ready to Share  
But the recent mainstream shift towards social responsibility in fashion – with even major fast fashion brands like H&M producing sustainable lines – provides an opportunity for Indigenous knowledge to make an impact in the marketplace.
"These sort of practices, of up cycling, utilizing renewable materials – those are practices that Indigenous people had been safeguarding for thousands of years," Navarro says, "they have been doing this for a long time."
And, he adds, the community is willing and ready to share.
"Indigenous societies are not really reluctant for humankind to take advantage of those practices. What they are reluctant is for those practices to be co-opted or for these practices to be employed in the wrong way."
But, like DeMontigny's beading, anything good takes time.
"Part of the indigenization thing is that everybody wants to do it kind of fast," Kucheran says, "but I think a more authentic and impactful way to do it is to start slow."
Katherine is a Toronto-based journalist currently finishing a graduate degree at Ryerson University. She loves writing about fashion and culture (from Kahlo to Kardashian), and is an advocate for telling women's stories. In her free time she enjoys traveling, exploring Toronto and listening to any and every true crime podcast.