Itoah Scott-Enns leans her head over her beaming, one-and-a-half-year-old daughter, Setiya, and slowly enunciates four syllables. Some are nasal, others aspirated:Ne-ghǫ-niè-tǫ. Ne-ghǫ-niè-tǫ. Neghǫniètǫ: I love you.
Setiya's cheeks bunch in an even bigger smile as she makes a few airy, high-pitched sounds, trying to repeat the word.
This scene is from one of many videos that Itoah has posted to a Facebook page called Speak Tłı̨chǫ to Me. The page contains short, instructional videos of Itoah teaching words and phrases of Tłı̨chǫ Yatıì, the traditional language of the Tłı̨chǫ people in the Northwest Territories, to Setiya and the nearly 900 people who like the page.
In 2011, only about 58 per cent of the approximately 2,745 Tłı̨chǫ people living in the Tłı̨chǫ Lands, the Tłı̨chǫ homeland just north of Yellowknife, spoke Tłı̨chǫ Yatıì as their mother tongue. In 2016, that number dropped to 47 per cent. The language has become endangered due to the stigma and silence imposed on Tłı̨chǫ people who attended residential schools, and the exposure of Tłı̨chǫ children to English-language television and technology.
But some teachers are now turning to tech to help reconnect Tłı̨chǫ kids with their language and culture. Itoah and schoolteachers are using the Tłı̨chǫ Intro App, and in late March 2018, a Tłı̨chǫ Yatıì computer game, "How Fox Saved the People," was released.
In "How Fox Saved the People," the user navigates a small, parka-clad Tłı̨chǫ person through a village and the surrounding wilderness to find missing caribou. Users have an aerial overview of their character completing small missions, such as picking up caribou fat or speaking to animals, amidst an idyllic, two-dimensional backdrop of flitting butterflies, swaying grass, and trees. As the story unfolds, the characters Fox and Wolf help the user discover that Raven has used magic to hide the missing caribou in a fire in his hut. The user frees the caribou, and Raven is condemned to eat poo for eternity as punishment. The computer game is entirely in Tłı̨chǫ Yatıì, although the user can turn on English subtitles.
The game is based on a Tłı̨chǫ myth. Luke West and Sherry Hucklebridge, the game's creator and illustrator, began creating the game in 2013 for an undergraduate linguistics course at the University of Toronto. They continued developing it for five years because they wanted to make learning Tłı̨chǫ Yatıì fun and culturally relevant for students, West says.
"Knowing that you're speaking the language of your own culture is something really positive for the community," West says, "and it helps people understand that their culture's a living, vibrant thing."
Try out a demo version of the game:
West and Hucklebridge flew to the Tłı̨chǫ Lands in mid-March to have students in three schools test the game. Some students became engrossed and beat it in one sitting. Other students drew parallels between aspects of the game and their everyday experiences, with one excitedly telling West that his father was going on a caribou hunt that weekend.
"The kids are loving it!" says Tammy Steinwand-Deschambeault, a language culture coordinator for the Tłı̨chǫ Community Services Agency.
Steinwand-Deschambeault helps determine which techniques educators should use to teach Tłı̨chǫ Yatıì in the five schools in the Tłı̨chǫ Lands. She thinks that taking schoolchildren on field trips where they do traditional activities, like checking fish nets through ice and trapping, is important if the Tłı̨chǫ language and the culture are to thrive. She acknowledges that Tłı̨chǫ youth are also growing up on apps and online, however.
A recognition that the upbringing of Tłı̨chǫ children has changed is what prompted Elder Rosa Mantla, another language culture coordinator, to collaborate with linguists and programmers to develop apps for Tłı̨chǫ students.
Mantla worked with academics at the University of Victoria to create the Yati Dictionary App, which contained over 1,300 phrases and words with pronunciations. Users could upload their own definitions of words and pictures of the objects the words referred to. But there was not enough funding to upgrade the app to the latest iOS, and it no longer works.
"That's the issue we have to live with," Lorna Williams says. Williams, the former chair of the First Peoples' Cultural Council, collaborated with Google and two universities on the Endangered Languages Project, an online database containing an interactive map pinpointing the locations of endangered languages and encyclopedic information about each one. "The digital world is the new colonizer," she adds. "We're always having to raise funds, to upgrade."
Funding for language revitalization projects should come from the federal government, Mantla says, since it created the residential schools where speaking Indigenous languages was forbidden and often harshly punished, leading to a decrease in language-speaking rates.
"Many of us came home not speaking our language. Our insights of knowing who we are had vanished from us," says Mantla, a residential school survivor.
In addition to the Yati Dictionary App, Mantla recorded the pronunciations of words in the Tlicho Intro App that Itoah uses, and was a voice actor in "How Fox Saved the People." And when fluent elders like Mantla recount traditional stories in Tłı̨chǫ Yatıì, those tales impart a cultural worldview and literary beauty that English translations cannot capture, Steinwand-Deschambeault says.
For West, "a game is a way you can be in the story". It can also bridge generational differences between Tłı̨chǫ adults and youth. Many elders know the traditional culture and vocabulary of the game, and can use that knowledge to assist children, who understand computer games better. "It kind of meets in the middle, where they're both able to solve the story together."
West recalls watching an older woman in a Northwest Territories school teach a young girl Tłı̨chǫ Yatıì words as they proceeded through the story. "It's almost motherly," he says, "being able to show what things mean."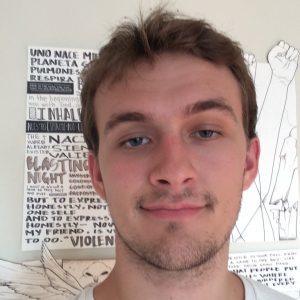 Max Binks-Collier is a writer and journalist in Toronto. His non-fiction work has been published in Graphite Publications, Historical Discourses and 24OurMusic, among others. He has articles forthcoming in The Walrus and Maisonneuve. His fiction has appeared in Joypuke Magazine, Red Herring, and Dark Moon Digest, and his poetry in The Veg and Pøst-.